Congrats to our UChoose Student-Athlete of the Week:
RaShana Siders, Holy Cross-Waterbury girls basketball
December 22, 2014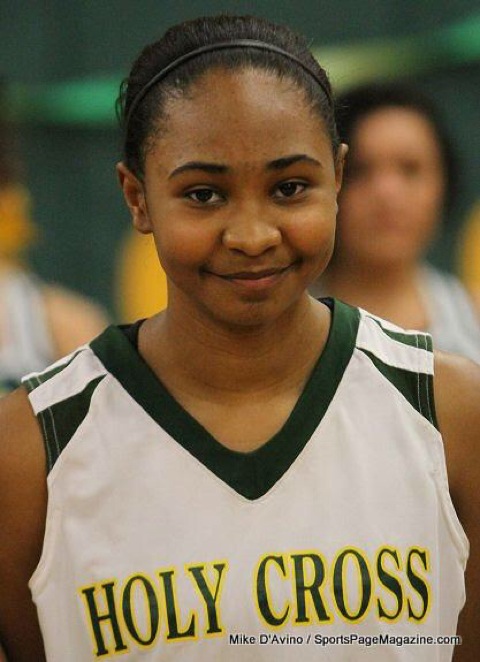 RaShana Siders, a junior guard on Holy Cross-Waterbury's girls basketball team, has been voted our first UChoose Student-Athlete of the Week of the winter and 12th of the 2014-15 school year!
RaShana scored 27 points, 20 in the second half and six in overtime, in Holy Cross' 69-66 overtime win over Torrington last Friday.
From the game story by the Waterbury Republican-American's Rick Wilson:
There was also appreciation from all quarters for the play of RaShana Siders. Holy Cross had Siders, and she was brilliant — 27 points, 20 in the second half, six of the team's eight points on the extra period. From the foul line, from the freeway with a couple of treys, bolting down the middle. From everywhere.

After Paige Middleton (16 points) had put Torrington ahead, 62-61 with a foul shot, Siders responded with a feathery rainbow 3-pointer. Then with Holy Cross clinging to a 66-64 lead and 1:38 to go, Siders really took over.

"The last two minutes I told RaShana to dribble around and (Torrington) will foul you," said Holy Cross coach Frank Lombardo. "I said, 'You take over.' She had a tremendous game. She is our point guard and we moved her off the point to get her more shots."

Always the good listener, Siders dribbled in and out, at times being chased by seemingly half of Torrington. She never got caught. Twice she went to the line, the first time draining both free throws for a 68-64 lead. Then after a Brittany Anderson layup, she hit another foul shot with 27 seconds left for what proved to be the final margin.

"I like it. I feel confident I can make free throws," said Siders.
Congrats to RaShana, who joins our fall UChoose Student-Athletes of the week:
Fairfield Warde girls soccer player Taylor Gabrenas, Cheshire girls volleyball player Jillian Haberli, Torrington boys soccer player Kevin Vaca, Cheney Tech-Manchester quarterback Rafael Lebron, Maloney-Meriden soccer player Ricardo Lopez, Danbury boys soccer goalie Ian Shannon, Northwest Catholic-West Hartford running back Delano Robinson, Derby's Ben Slowik, Norwich Free Academy's Jawaun Johnson, Valley Regional's Andrew Tuscano and Windsor's John Nolan.
Click here on our guidelines for the award, which is determined in an online vote starting Sunday and ending Tuesday at noon. Be on the lookout for our next nominees of the 2014-15 winter sports season Dec. 28!
Photo courtesy Mike D'Avino | SportsPageMagazine.com