About CPTV Sports
One State • One Network • One Goal
Building community pride with the best in local sports coverage on-air and online with CPTV Sports!
More people in Connecticut attend high school athletic events overall than a full season of UConn athletic events combined.
Every week, parents, grandparents, alumni and students attend more local sporting events to support their student-athletes and show their community spirit and pride than other large-venue athletic events in this state. Whether it's field hockey in Fairfield, softball in Simsbury, or volleyball in Voluntown – fans come out to support their local teams in a big way!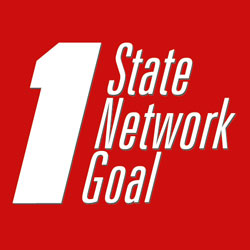 Fueled by this pride in community and CPTV's commitment to support programs here in our state and provide a platform to showcase local talent, the vision for CPTV Sports was born.
CPTV took a risk in 1994, bringing the UConn women's basketball team into living rooms across the state and  making the Huskies one of the first women's teams in the country to have their own local TV contract.  It was that risk-taking and vision that helped turn UConn into the most successful women's program in the country. What CPTV did for UConn women's basketball we can do for high school sports – get people excited and engaged!
As they say – if you build it they will come, and we did.  What started out in 2010 as a 24/7 sports network that exclusively broadcast  Connecticut high school sports has grown to also showcase the best local collegiate, semi-pro and professional sports Connecticut has to offer.
When the University of Hartford Hawks were looking for a home for their men's and women's basketball programs, they came to CPTV Sports.  When Central, Connecticut, Yale, Quinnipiac, Post and other college sports programs needed a platform to air their games, they partnered with CPTV Sports.  When state pro teams such as the Connecticut Sun, New Britain Rock Cats and Connecticut Whale needed a broadcast home – CPTV Sports was there!
Since 2011,  CPTV Sports has been all about building strong local sports partnerships and getting statewide cable carriage - and we succeeded.  Now, it's  time to build CPTV Sports through extensive community outreach and promotion. That means meeting with schools, students, parents, athletic directors and coaches to get  their attention and support. It also means using our statewide broadcasting resources – CPTV and WNPR - and our online properties and partners to spread the word.
At a time when sports fans can, at any moment, choose from dozens of televised sports programs featuring the world's most elite athletes, interest in televised high school sports is rising dramatically.  What explains this phenomenon?  The findings from a 2008 study published in the Sport Management International Journal suggest sports play a major role in people's lives and contribute in significant ways to community pride.  In addition, the results of a survey published in U.S. News in 2011 found  high school sports participation has increased for 22 consecutive years. In 2014, CPTV Sports achieved another milestone, broadcasting all eight CIAC boys and girls basketball games live for the first time.
CPTV Sports is committed to hometown pride, and supporting schools, communities and student-athletes.
In addition, our state's colleges, pro and semi-pro teams deserve a thriving fan base.   Join us on our statewide quest to fill seats in the stands; inspire community, individual and business support and showcase our teams, on our network, in our great state.
Cable: Cablevision 139, Comcast 966 (256 in Ridgefield, Bethel and Danbury), Cox 805, Charter 223, Metrocast 418, Thames River 87.
Over the air digital: Hartford: WEDH, 24.3; Bridgeport WEDW 49.3; New Haven WEDY 65.3; Norwich WEDN 53.3.
CPTV Sports is one of CPTV's digital channels and will also be broadcast in high-definition television, and will take advantage of CPTV's unique ability to bring local people and events to exciting life with intimate storytelling and reporting.
"At CPTV, we know that the best in sports entertainment can be found, not in Boston or New York, but right here in the Nutmeg State," said Jerry Franklin, President and CEO of the Connecticut Public Broadcasting Network, when the network re-launched as CPTV Sports in 2011. Franklin said the network will be "bringing coverage of all the exciting, inspiring fun that can be found right in Connecticut residents' own backyards."
Contact us
Email [email protected] for any questions, comments, or suggestions you may have regarding CPTV Sports.
Facebook users can leave a post on our wall at our facebook page; twitter users can comment sending a tweet to @CPTVSports, our twitter account.
If you have an interesting story about an athlete in Connecticut, we would love to hear it. Email [email protected] with story tips and ideas.
For information about underwriting or advertising, contact Nancy Bauer, Vice President of Sales/Corporate Support  at 860-275-7202
About Connecticut Public Television
CPTV is a media service of the Connecticut Public Broadcasting Network. It is a locally andnationally recognized producer and presenter of quality public television programming, including UConn Women's Basketball, original documentaries and educational programming. CPTV has built a reputation as a leader in children's programming, including playing an historic role in bringing Barney & Friends™, Bob the Builder™ and Thomas & Friends™ to public television. The station offers 11 hours of positive, nurturing children's programs each weekday, reaching 50,000 to 70,000 households daily. The Connecticut Public Broadcasting Network (CBPN) also includes WNPR. WNPR is an affiliate of National Public Radio, Public Radio International and American Public Media. WNPR serves almost 240,000 listeners weekly in Connecticut, New York and Rhode Island with news and information. Its award winning local programming includes Where We Live, The Colin McEnroe Show and The Faith Middleton Show. Overall the network brings a broad spectrum of public affairs, entertainment, sports and educational programming to viewers, listeners and readers. For more information, visit cpbn.org.