Vote for CPTV Sports' LIVE UChoose Thanksgiving Day football game!
November 10, 2014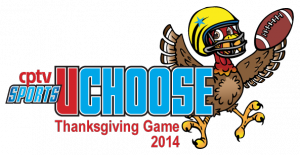 Each week, CPTV Sports asks YOU to choose our high school Student-Athlete of the Week.
Now, we're asking the hungriest high school football fans in the state to decide which game CPTV Sports will broadcast LIVE on the favorite football day of the year - THANKSGIVING!
Voting will continue until Friday Nov. 21 at 6:00pm. We'll announce the winner that night during our final LIVE Friday night game of the season when Derby meets Woodland.
The Contenders:
(Records through Nov. 8, CPTV Sports GameTime Power Poll state rankings through Nov. 6:)
• BETHEL (7-2) at BROOKFIELD (8-1), 10 a.m.
SWC Patriot Division leaders meet with Class M tournament berths at stake
• CHESHIRE (7-2) at No. 1 SOUTHINGTON (8-0) , 10 a.m.
Neighbors meet in nonconference clash with Class LL seeding implications
• No. 10 FAIRFIELD PREP (7-2) at WEST HAVEN (5-4), 10:30 p.m.
Prep playing to clinch Class LL playoff seed
• GRANBY (6-3) at CANTON (8-1), 10:30 a.m.
Pequot Uncas leaders Canton try to nail down Class S playoff berth vs. neighbors
• NORWICH FREE ACADEMY (5-2) at NEW LONDON (6-2), 10:00 a.m.
The nation's oldest high school rivalry will determine the ECC Large champion; New London playing for Class M playoff berth
NOTE: Due to a glitch, totals that appear when 'View Results' is clicked do not include the following votes cast before Nov. 11 at 1:50pm Connecticut time. Please add them to the numbers that appear for an accurate vote count. Thanks again for voting!
Bethel at Brookfield - 541
Cheshire at Southington - 126
Fairfield Prep at West Haven - 43
Granby at Canton - 353
Norwich Free Academy at New London - 270