Men's hockey: UConn 1, Boston College 0
November 6, 2014
Story, photos By Francesco Graziano Jr. | CPTV Sports
Mike Cavanaugh was brought to UConn from Boston College last year to oversee the Huskies' transition to Hockey East and build a national men's hockey power.
Wednesday night, Cavanaugh recounted his interview with UConn athletic director Warde Manuel before he was hired to coach the Huskies in May 2013. "This state is starved for UConn hockey," Cavanaugh told Manuel. "I really, really believe that."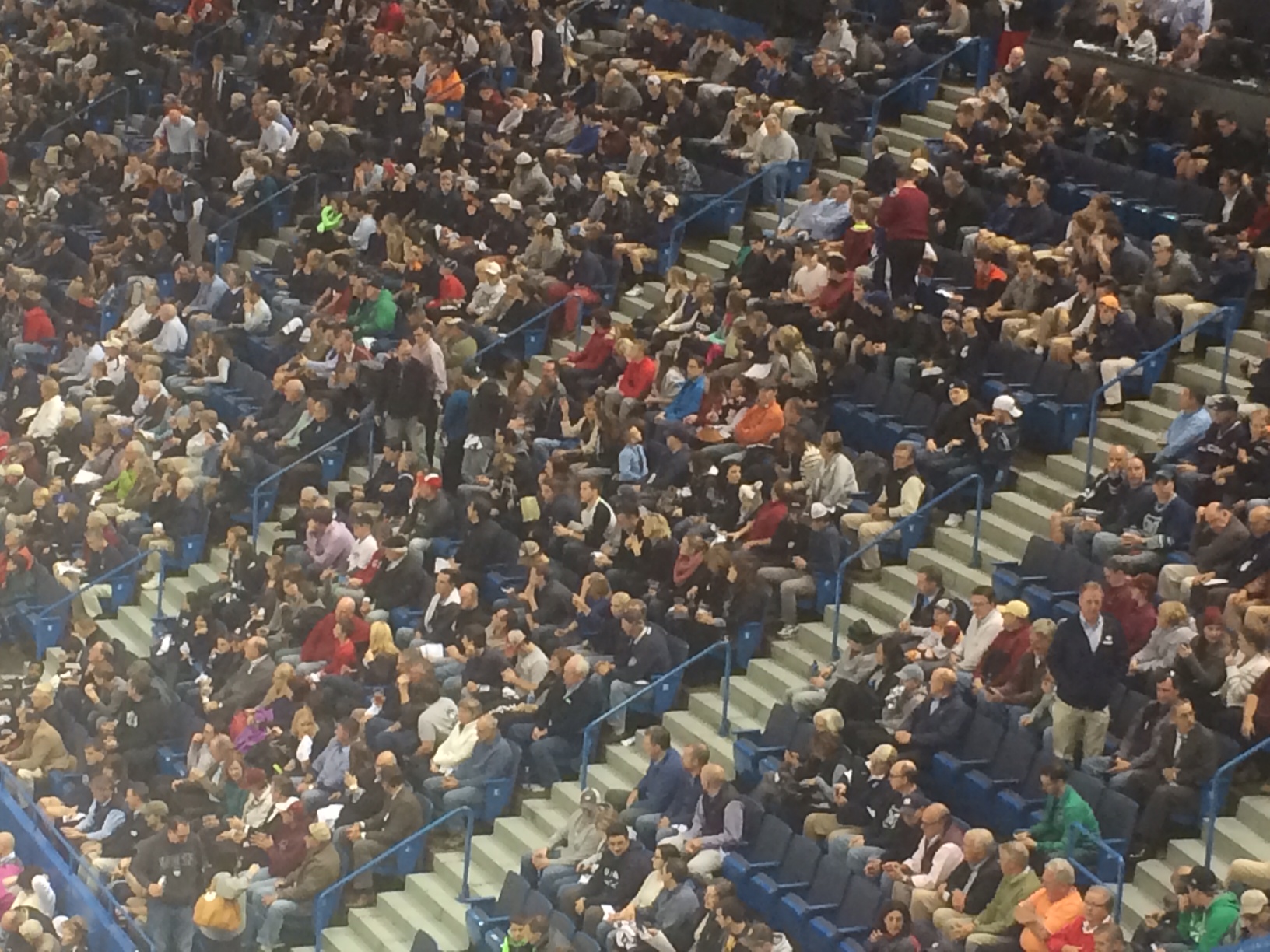 Wednesday, the Huskies captured their biggest win in program history in a 1-0 shutout of No. 3 Boston College before 8,089 at a raucous XL Center.
It was a night of firsts: UConn's first Hockey East victory, the first Hockey East game in Hartford and the first time UConn played Boston College — where Cavanaugh was an assistant to coach Jerry York for 18 years.
UConn (2-4-2, 1-2 Hockey East) beat a ranked opponent for the second time this season — the Huskies defeated then-No. 15 Quinnipiac 4-1 Oct. 21 in Bridgeport. UConn has four wins over ranked teams, including one last season.
The night also marked one ending — it was the first time in 106 games BC (4-3, 1-2) failed to score.
Evan Richardson's power-play goal 11:35 into the first period stood up thanks to 35 saves from UConn goalie Rob Nichols. "I just got the puck on net," Richardson said of his second goal this season. "That's what we've been working on in the power play is getting pucks on net."
The opening faceoff at 7:10 p.m. came after a ceremonial puck drop that included Manuel, UConn president Susan Herbst and Hockey Hall of Famer Brian Leetch, who grew up in Cheshire and attended Avon Old Farms before going on to star in the NHL.
It was clear it would be a historic night for hockey in Hartford, though Richardson kept his focus on the task at hand. "We try to play the game not the occasion," he said.
Said Cavanaugh: "When I walked on the bench and saw the maroon and gold, I was like that's weird . . . because you're only human. I was there for 18 years and it was the first time I was coaching against them."
He served under York as BC won four national titles, six Hockey East regular season titles and nine confernce tournament titles. They briefly exchanged pleasantries after the game, but Cavanaugh admitted that they barely had a chance to speak.
"He was the guy that gave me my first job," said Cavanaugh, who played at Bowdoin and was hired by York before the 1992-93 season, York's last at Bowling Green before moving to BC.
UConn dominated the first period, outshooting Boston College, 13-9. Eagles goalie Thatcher Demko made two big saves in one sequence against the Huskies' Patrick Kirtland early in the first period, as the crowd roared in anticipation of a Huskies score.
"Thatcher continues to be one of the dominant goaltenders in the nation," York said. "(Thatcher) again played very, very well tonight, but we're having trouble generating offense."
Demko (21 saves) had to be stellar because the Eagles could not convert their chances. BC outshot UConn in the second period, 16-6. Nichols stopped all those opportunities, eliciting monster cheers with every big save. The Eagles outshot UConn 35-22, but went 0-for-5 on the power play.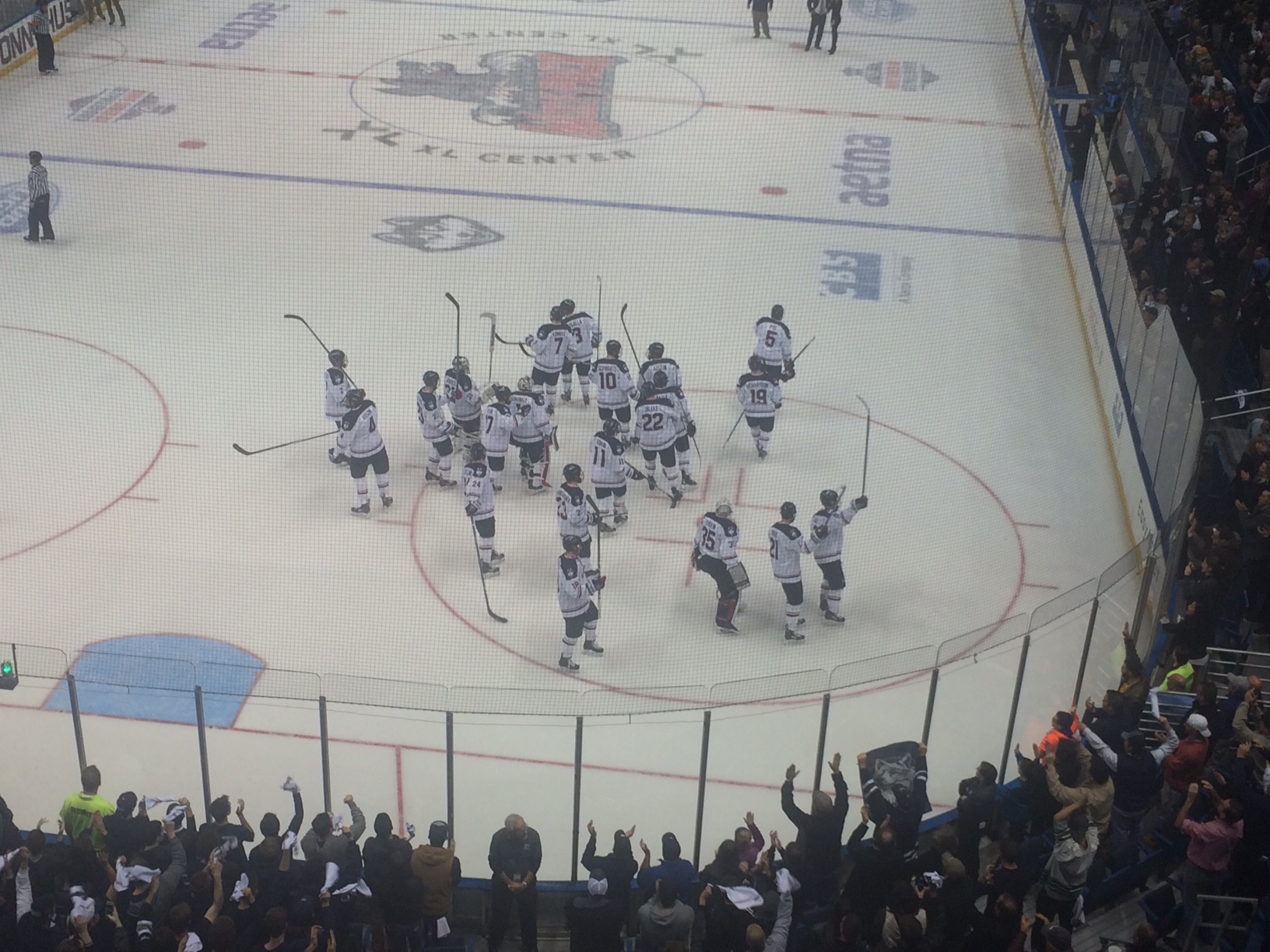 York was most troubled by one BC failure to convert. "A key part of the game was a 5-on-3 in the third period," a frustrated York said. "We just never got that sustained offense that we like to get on a 5-on-3."
There will be moments UConn fans won't forget as the Huskies marched toward victory in the third period — the standing ovation Nichols received after his 31st save at 12:44 in the third period, Darude's 'Sandstorm' reverberating through the XL Center speakers during a timeout at 16:22, the "Let's go Huskies" chant after a flurry of saves by Nichols with 15 seconds left, and finally, the loud roar as the puck trickled toward BC's end as time expired.
"There wasn't any doubt in my mind or the players' mind that we were going to get it done there," Nichols said.
Cavanaugh was still coming down from a gigantic high after the game. But for him, it is only a stepping stone to what he believes will be bigger moments in the future for UConn hockey.
"I don't want to be the Macarena or the hustle — the one-hit wonder," Cavanaugh joked. "I want to be the team that is continually packing this building and the team that's competing for championships."