March 26, 2015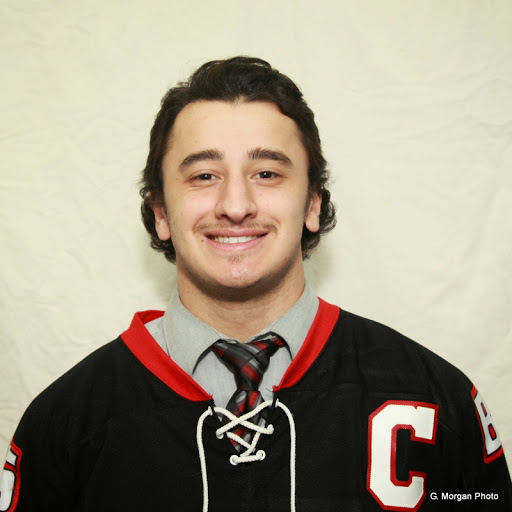 Tyler Criscuolo, a senior forward on Branford High's boys hockey team, has been voted our UChoose Student-Athlete of the Winter for the 2014-15 season!
Tyler scored 30 goals with 18 assists this season for Branford (18-6-1), which advanced to the CIAC Division II semifinals before losing to eventual champion Suffield/Granby/Windsor Locks.
Tyler, also a standout baseball player, signed a letter of intent to play baseball at Southern Connecticut State in December.
CT HS Hockey News named Tyler Division II Skater of the Year along with naming him to its state Division II first-team. Tyler, who scored 14 goals in his first four games, was also named second-team all-SCC Division II.
UChoose Student-Athlete of the Week voting resumes Tuesday April 11. We'll keep voting open until noon Tuesdays this spring and announce the winner Wednesday afternoon.
Our UChoose Student-Athletes of the Week for winter 2014-15:
Greenwich boys basketball player Conor Harkins, Holy Cross-Waterbury girls basketball player RaShana Siders, Fairfield co-op boys hockey player Jake Fuss, Northwest Catholic boys hockey player Anthony Ceolin, Northwest boys basketball player Christian Thomas, Masuk-Monroe boys basketball player Bryan Acevedo, New Fairfield/Immaculate hockey player Peter Masi, Simsbury boys basketball player Rayon Christie, Greenwich boys hockey Matt Lodato, Wilbur Cross runner Danae Rivers and Notre Dame-Fairfield girls basketball player Kayla Croswell, Simsbury boys hockey player Ben Levin and Canton girls basketball player Emily Briggs.
Our fall 2014 winners:
Fairfield Warde girls soccer player Taylor Gabrenas, Cheshire girls volleyball player Jillian Haberli, Torrington boys soccer player Kevin Vaca, Cheney Tech-Manchester quarterback Rafael Lebron, Maloney-Meriden soccer player Ricardo Lopez, Danbury boys soccer goalie Ian Shannon, Northwest Catholic-West Hartford running back Delano Robinson, Derby's Ben Slowik, Norwich Free Academy's Jawaun Johnson, Valley Regional's Andrew Tuscano, Windsor's John Nolan.
Click here on our guidelines for the award.
Photo courtesy Branford High