Congrats to UChoose Student-Athlete of the Week
Danae Rivers, Wilbur Cross-New Haven track
February 23, 2015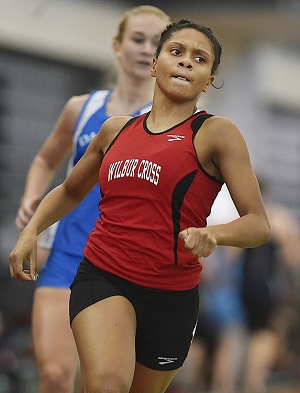 Danae Rivers, a junior runner on Wilbur Cross-New Haven's girls track team, is our 10th UChoose Student-Athlete of the Week of the winter and 20th of the 2014-15 school year!
Danae won the 1,000 and 1,600 meters and anchored the winning 1,600 meter relay team for Wilbur Cross in the CIAC State Open indoor track meet Feb. 21 in New Haven that will be seen on CPTV Sports Wednesday Feb. 25 at 7:00pm. Read more about Danae's accomplishment from GameTimeCt.com's Mary Albl here.
Congrats to Danae, who joins Greenwich boys basketball player Conor Harkins, Holy Cross-Waterbury girls basketball player RaShana Siders, Fairfield co-op boys hockey player Jake Fuss, Northwest Catholic boys hockey player Anthony Ceolin, Northwest boys basketball player Christian Thomas, Masuk-Monroe boys basketball player Bryan Acevedo, New Fairfield/Immaculate hockey player Peter Masi, Simsbury boys basketball player Rayon Christie and Greenwich boys hockey Matt Lodato as our winter Student-Athletes of the week
Our fall winners:
Fairfield Warde girls soccer player Taylor Gabrenas, Cheshire girls volleyball player Jillian Haberli, Torrington boys soccer player Kevin Vaca, Cheney Tech-Manchester quarterback Rafael Lebron, Maloney-Meriden soccer player Ricardo Lopez, Danbury boys soccer goalie Ian Shannon, Northwest Catholic-West Hartford running back Delano Robinson, Derby's Ben Slowik, Norwich Free Academy's Jawaun Johnson, Valley Regional's Andrew Tuscano, Windsor's John Nolan.
Click here on our guidelines for the award, which is determined in an online vote starting Sunday and ending Monday at noon. Be on the lookout for our next nominees of the 2014-15 winter sports season Saturday Feb. 28!
Photo courtesy Catherine Avalone, GameTimeCT.com